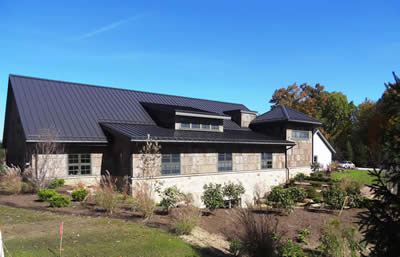 Land Conservancy opens new conservation center in Moreland Hills
October 12, 2012
A generous, unsolicited gift from a donor who wishes to remain anonymous has enabled the Land Conservancy to build a new campus and conservation center in Moreland Hills. The facility, which relocates the Land Conservancy's headquarters from Chesterland, officially opens this week.  About two-thirds of the Land Conservancy's 35-member staff will be based in Moreland Hills, with the rest working from field offices in Cleveland, Akron, Oberlin, Medina, Painesville, Orwell and Orrville.
Located at 3850 Chagrin River Road, the project that created the Land Conservancy's new home was part of a six-year, multi-phase land protection project that permanently preserved about 135 acres in Moreland Hills, creating beautiful, publicly accessible hiking trails and further extending Forest Ridge Preserve. A painstakingly restored (and recycled) 5,000-square-foot historic century home and newly constructed, environmentally-responsible 11,000-square-foot addition will now house the Land Conservancy's main office.
Only Possible as a Result of Amazing Donor Generosity
Rich Cochran, the Land Conservancy's president and chief executive officer, said the new headquarters building itself never would have been possible without the anonymous gift, which is – by far – the largest in the organization's history. Cochran praised the donor's vision and generosity and said the project will help the Land Conservancy better achieve its mission of preserving and restoring high-quality environments in northern Ohio. "We are exceedingly grateful for this astonishing gift which reminds us daily of the saying, 'Of those to whom much is given, much is expected,'" he said. "With the gift that enabled us to design and build our campus and conservation center came a responsibility to do it well – to maximize the value we bring to the region, to advance our mission, to be economically and environmentally responsible, to invest in local services and materials, and to provide our community with a beautiful amenity in harmony with nature."
Cochran said the growing Land Conservancy staff had long outgrown leased and inefficient space on the second floor of a Chester Township shopping strip center above a fast-food restaurant. It was a 2007 visit to the former Land Conservancy offices that inspired the donor and her husband to make the offer. The project did not exist until they came forward with their vision and offer. They stipulated that the funds could only be used for a new Land Conservancy home, and only on a site and with an architect they approved. This site was ultimately selected by the donor from more than 100 prospective options. The donor selected Cleveland architect Anthony Paskevich, whose design reflects the Western Reserve tradition of New England connected farms in the mid-1800s. Meeting and gathering spaces are all located in the historic building, while offices are located in the new addition.
In a statement, the donor described the gift as an opportunity to "create for the Land Conservancy a facility which would provide appropriate space and efficiency for its operations. It could be a place that reflects their values and the community they represent. A place they would be proud of."
According to Cochran, the lead gift from the anonymous donor inspired other large donations including monetary gifts from Elizabeth Juliano, a Land Conservancy board member, and the family of the late Dick Grimm, a longtime board member and supporter, among others.  Substantial materials donations came from Willoughby Supply Company, donor of the metal roof, and Fairmount Minerals, donor of thousands of tons of construction gravel. "We are humbled and grateful for these gifts," said Cochran.
Cochran also praised Moreland Hills Mayor Susan Renda and the village for embracing the project. Mayor Renda said she was pleased to have the Land Conservancy as part of the Moreland Hills community. "Having Western Reserve Land Conservancy, the largest land conservation organization in Ohio, headquartered here is a feather in Moreland Hills' cap. The results of the partnership between the Village of Moreland Hills and the Land Conservancy will benefit residents and their children and grandchildren for generations to come," she said.
Protecting the Land
and

Creating a Campus for Conservation

Multi-year land protection in partnership with Moreland Hills: The Land Conservancy's headquarters project resulted in far more than just a building. In fact, it is the culmination of six years of planning that permanently protected about 135 acres. The first piece fell into place in January 2006, when Moreland Hills Village Council voted unanimously to partner with the Land Conservancy to purchase 52 acres on Chagrin River Road. In 2007, the village and Land Conservancy again joined forces to preserve another 63 adjacent acres, thereby creating the 115-acre Forest Ridge Preserve. In 2010, the Land Conservancy subsequently acquired another adjoining 22 acres, including the century home, from Charles Lang when the lead donor approved the location. After village voters overwhelmingly approved a ballot issue allowing conservation groups to locate in a residential district under specific conditions, the Land Conservancy retained just four acres, allowing the remaining 18 acres to be used to enlarge the Forest Ridge Preserve and for a new village park. The village park is expected to include a community garden, fishing pond, ice skating, birding trails and to use an existing house as a community gathering space.

Wildlife corridors and public hiking trails: Connecting corridors of green spaces is a critical factor in protecting plant and wildlife biodiversity, as well as in creating enjoyable environments for humans. That's why the Land Conservancy maintained undeveloped land and hiking trails as part of its campus. Many miles of hiking trails on land with beautiful natural resources in Forest Ridge Preserve are connected to those on the Land Conservancy campus, all of which are open for public use. The Land Conservancy campus is also adjacent to the Cleveland Metroparks 1,521-acre South Chagrin Reservation, from which hikers – and wildlife – can get to virtually every portion of the 22,000-acre Emerald Necklace, which in turn connects to the 33,000-acre Cuyahoga Valley National Park.

Storm water management: To reduce storm water run-off and surges that diminish aquatic habitats and lower water quality, the Land Conservancy incorporated water management features known as bioswales into its landscape design. Six bioretention areas, two underground detention areas, and an extensive piping and catch basin system have been built. Beautiful and functional, the bioswales are catchment areas filled with sand and gravel soils and planted with native wildflowers and grasses. Capturing the site's rainwater and gradually restoring it into the ground also creates a healthier habitat on the property.

Interpretative learning displays: Still underway is installation of interpretative learning displays which will eventually be located both on the grounds and inside the buildings. "We want to provide as many opportunities as possible to help educate the public about land protection and conservation," said Cochran, who also hopes the facilities will help foster important conversations about regional conservation.

Stream restoration: When funding becomes available, the Land Conservancy also intends to restore what has become a diverted straight-line, channeled stream running though the property. By again merging it with the Chagrin River, the aquatic species of the preserve will be reconnected to the greater watershed. Restoration will also include removing a culvert to open the stream to its surrounding ecosystem, and digging meandering curves to slow the water flow and reinstate its natural sinuosity. These initiatives are expected to encourage more plant and animal life, with a goal that the cold water stream will once again be populated with brook trout.
Environmentally and Economically Responsible
The Land Conservancy specified innovative, environmentally friendly and economically responsible materials and initiatives wherever possible. It insisted on selecting products and processes that are less costly, more energy efficient, more durable, locally sourced, and generally better for the surrounding community and for the world at large than many conventional ones.
[glossary_exclude]Legacy[/glossary_exclude] Construction Services, LLC of Lyndhurst served as construction manager.  Cory Maher, vice president of Legacy Construction, said the Land Conservancy's project was a learning experience that forced him to consider non-traditional approaches. "The Land Conservancy's mission and its focus on being environmentally and economically responsible drove all key decisions. As a result, this is the most energy-efficient building that I have built in my 15 years in construction. It far exceeds any conventional construction means and methods by at least 40 per cent. And the best part of it is that it was less expensive as well," Maher said.
Amazingly energy efficient:  To heat and cool the building, the Land Conservancy took advantage of the steady temperature of the earth (55 degrees F) for a geothermal heating and cooling system. This approached significantly reduced the amount of energy required to heat, cool and operate the building. The office addition foundation was constructed with Insulated Concrete Forms (ICFs), plastic foam blocks filled with concrete and rebar.  ICFs draw the 55 degree temperatures up into the building, making it cooler in summer and warmer in winter, requiring less heating and cooling as a result. Unlike masonry construction and poured concrete foundations, there is no field waste and the technology is stronger, more durable, vastly more efficient and identical in cost. The exterior walls of the office addition are constructed with structural insulated panels (SIPs).  These panels are strong, cost efficient, energy efficient and pre-made to avoid field waste. One great result of all this is a building that required 60 percent less HVAC equipment than a conventionally built structure of the same size.
Recycling and re-using an entire house and more: The centerpiece building is a historic homestead (built in the 1830s) that had been meticulously restored by its previous owner over a 15-year period using all local materials. Cherry and other hardwoods from the property itself made beams and doors, stones from the region were used in staircases and fireplaces, materials salvaged from local farms were used for balcony railings. The original house was further restored by the Land Conservancy to house its meeting, gathering and shared spaces. Re-using the existing homestead exemplifies the principle of Reduce, Re-use, Recycle.  The Land Conservancy and re-used bricks on the home's rooftop terrace and hardwoods in the house; and reclaimed some accent pieces from houses demolished in Cleveland.  Newer pieces are made of recycled and recyclable materials as well. For example, the standing seam metal roof on the building addition is made of reused and recyclable steel manufactured right here in northern Ohio.
Engineered by Mother Nature:  The unique exterior of the office addition is natural poplar bark siding. This untreated wood is durable, beautiful and less expensive than conventional siding – and it never needs to be treated! Look closely and you'll find naturally occurring lichens and moss on many of the pieces. Another unique, nature-inspired feature can easily be seen on the exterior of the building where a retaining wall was needed to ensure safety access and egress for the lower level. Rather than building a retaining wall of pavers or poured concrete, the Land Conservancy adapted nature's engineering wisdom and created a beautiful rockery using natural boulders – and saved $60,000 in the process. Nature's engineering can be found inside as well. Many of the floor surfaces in the office are covered with bamboo flooring. Durable, attractive and environmentally friendly, bamboo is harvested sustainably and – again – is less costly than most other appropriate flooring alternatives. A rooftop terrace will include herb, vegetable and flower gardens available for use by employees.
Almost exclusively local:  To support the regional economy and reduce energy used in transportation, the Land Conservancy insisted on using locally produced materials and talent for the project wherever and whenever possible. The result, project materials and talent were almost exclusively sourced locally. Examples include electrical components and controls from Eaton (assembled in Parma); a standing seam metal roof from Willoughby Supply (made in Middleburg Heights and Mentor); construction gravel from Fairmount Minerals (headquartered in Chardon); plumbing products from Moen (based in North Olmsted); paint from Sherwin-Williams (headquartered in Cleveland), and more.
Freshwater initiatives:  One of the world's most critical natural resources is its fresh water supply. That is why minimizing the impact of its new home on natural resources – including water – is important to the Land Conservancy. To that end, the Land Conservancy undertook three significant initiatives utilizing state-of-the-art and environmentally friendly processes and technologies related to its water use. In addition to bioswales for storm water management and the anticipated stream restoration project, the Land Conservancy partnered with a world class research and development company to conduct an on-site pilot demonstration of revolutionary new water treatment technologies. Designed by water treatment and purification experts, this energy-efficient system emulates nature and purifies water to the highest possible standards of cleanliness. The goal is to demonstrate how organizations can reduce wastewater and become more effective, more responsible users of water.
A word about LEED: With abundant energy efficient features, one might assume the building is LEED certified.  It isn't. That's because the Land Conservancy consciously chose not to pursue the certification. Robert Koonce, who managed the project for the Land Conservancy and is its director of development, explained, "We are charged with using philanthropic dollars and grants for land preservation work, not building certifications.  We clearly embrace the values and philosophy that the LEED process puts forth. We believe we met or exceeded its guidelines at very high levels. But when we realized the certification process would run into six-figures, as a non-profit, we simply had to think twice," Koonce said. "It was a hard choice, but in the end, we have high confidence that we were as environmentally responsible and economically responsible."
About the Land Conservancy
Western Reserve Land Conservancy is nonprofit conservation organization. We believe that people, plants, animals, communities, businesses and economies are more likely to thrive and prosper when provided with the benefits of vibrant, nutrient-rich surroundings. That's why we work to preserve and restore high-quality environments for all living things in northern Ohio. We focus our energies primarily on land in a 14-county region of northern Ohio known as the Western Reserve, although urban revitalization initiatives underway through our Thriving Communities Institute extend statewide.
Using sophisticated real estate tools, we protect and nurture scenic beauty, rural character and natural resources like woodlands, wetlands, streams, coastlines and working farmlands; and we also revitalize and restore productive green spaces to aging urban neighborhoods. Our efforts have permanently preserved more than 420 parcels and more than 30,000 acres to date.
We accomplish our work in various ways. We use conservation easements to help private property owners permanently protect land by voluntarily relinquishing development rights.  We help conservation partners like park districts acquire and preserve land for public access. And, we help establish land banks in Ohio counties to deal with land containing vacant and abandoned homes, principally as a result of the foreclosure crisis.
While Western Reserve Land Conservancy was formed in 2006 by the largest-ever merger of its type, the 11 local land trusts that joined forces to create the organization have  been preserving natural areas, parkland and farmland since the late 1980s.  Today, we are considered by the Land Trust Alliance to be among the top 10 land trusts in the United States.