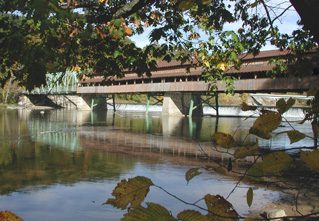 Land conservancies will join forces
August 25, 2009
Grand River Partners, Inc. has reached an agreement to merge with Western Reserve Land Conservancy, a move that will bring together the region's largest land trusts.
Rich Cochran, president and CEO of Western Reserve Land Conservancy, said while the organizations will immediately begin joint operations, the Grand River group is not expected to officially merge with the Land Conservancy until November 2009. He said he expects the merger will occur unless an unanticipated problem is identified and not resolved. The merger will be put to a vote of the Grand River Partners membership on Monday.
"We are so excited to join forces with Grand River Partners," Cochran said. "For many years we have worked side by side, and we have deeply respected their passion and good work. By merging, we will immediately increase our region's capacity to preserve precious land more quickly, effectively and efficiently."
He added, "This is a wonderful example of two land conservancies thinking strategically about mission capacity rather than organizational allegiance. All of Northeast Ohio will reap the benefits of this selfless and effective strategic decision."
Paul Belanger, president of Grand River Partners' Board of Trustees, said, "Grand River Partners and Western Reserve Land Conservancy have both worked successfully in recent years to conserve critical land in the Grand River watershed. Both organizations are dedicated to assuring that this unique natural heritage is preserved for future generations. By working together, we can be more effective in achieving our common goal of being effective advocates and stewards for the Grand River."
The merger means the two organizations, which have been working independently to preserve land in the Grand River watershed, will join forces and create efficiencies that will accelerate land conservation in the region, according to Cochran.
Western Reserve Land Conservancy, which works to protect the scenic beauty, rural character and natural resources of northern Ohio, is the largest land trust in Ohio. The Land Conservancy – formed in 2006 by the merger of eight local land trusts – has preserved more than 240 properties and more than 15,000 acres in its 14-county service region.
Grand River Partners, which was formed in 1994 and is headquartered in Painesville, works to preserve the Grand River watershed in Ashtabula, Trumbull, Geauga and Lake counties. GRP currently holds or co-holds 33 conservation easements and owns eight preserves in the watershed for a total of almost 3,700 acres of permanently protected land. GRP's signature preserve is Ashcroft Woods, a more than 550-acre natural area on the Grand River in Ashtabula County, which is named in memory of its longtime executive director, Chuck Ashcroft.
Western Reserve Land Conservancy is headquartered in Chesterland in Geauga County. It also has field offices in Oberlin, Akron, Medina and Mesopotamia in Trumbull County. Cochran said Grand River Partners' office in Painesville will become a Land Conservancy field office staffed by three full-time employees who have been working for GRP.
Western Reserve Land Conservancy's goal is to pursue with many partners the preservation of about 400,000 acres – or about 10 percent of the total area – in northern Ohio and to create an interconnected network of protected property throughout the region. About 200,000 acres has been preserved by park systems, other government agencies and land trusts such as the Land Conservancy and Grand River Partners.
Grand River Partners is a nonprofit land trust that works to preserve the water quality, open space, natural, recreational, agricultural and scenic resources of the Grand River. It grew out of a loose coalition of public and private agencies known as the Grand River Partnership.
The headwaters of the 98-mile-long Grand River are in the marshlands of southeastern Geauga County. From there, the river flows into Trumbull County and across a large floodplain filled with wetlands before winding its way north through Ashtabula County, then west into Lake County, where it empties into Lake Erie at Fairport Harbor.
The Grand River, which in 1974 was designated a State Wild and Scenic River, drains about 712 square miles and is home to 87 species of fish, 115 bird species and 60 rare plants.