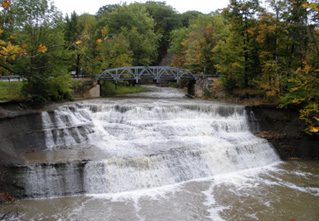 Land conservancies' merger is finalized
December 31, 2009
Western Reserve Land Conservancy, the state's largest land trust, became even larger today when Grand River Partners officially became part of the 14-county nonprofit organization.
The merger, which had been approved by both conservancies about five months ago, was legally recognized by the Ohio Secretary of State's office on the final day of 2009. The two organizations had been conducting joint operations since August while Land Conservancy and GRP staff members reviewed issues in need of resolution before the merger.
The merger brings together the region's largest land trusts.
"We are extremely grateful that Grand River Partners, a group that has done such good conservation work, will be joining us in our efforts to permanently protect land in northern Ohio," said Rich Cochran, president and CEO of Western Reserve Land Conservancy. "This will benefit the entire region by increasing our capacity to preserve land more quickly, effectively and efficiently."
Three full-time GRP employees have joined the Land Conservancy staff. In addition, the former GRP headquarters in Painesville will become a Land Conservancy field office.
Western Reserve Land Conservancy, which works to protect the scenic beauty, rural character and natural resources of northern Ohio, was formed in 2006 by the merger of eight local land trusts. Grand River Partners, which was formed in 1994, has worked to preserve the Grand River watershed in Ashtabula, Trumbull, Geauga and Lake counties.
Together, the Land Conservancy and GRP have permanently protected more than 350 properties and more than 21,800 acres.
Western Reserve Land Conservancy is headquartered in Chesterland in Geauga County. It also has field offices in Oberlin, Akron, Medina and Mesopotamia in Trumbull County. The Land Conservancy's goal is to pursue with many partners the preservation of about 400,000 acres – or about 10 percent of the total area – in northern Ohio and to create an interconnected network of protected property throughout the region. About 200,000 acres has been preserved by park systems, other government agencies and land trusts such as the Land Conservancy.