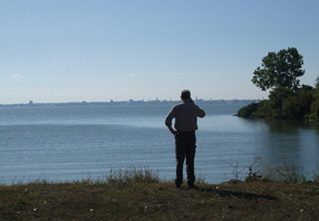 Johnson's Island property is preserved
March 12, 2010
A group of property owners and Western Reserve Land Conservancy have permanently preserved about one-sixth of Johnson's Island, the site of a prisoner-of-war camp for Confederate soldiers captured by Union forces during the Civil War.
Andy McDowell, director of the Land Conservancy's Firelands Field Office, said a conservation easement has been placed on about 44 acres owned by the Johnson's Island Investment Group. The conservation easement permanently protects the natural and scenic resources of the property while allowing the land to remain privately owned.
The property is located in the center of Johnson's Island. The investment group, which is made up of island homeowners, purchased the land from a developer who declared bankruptcy.
This is the Land Conservancy's first completed project in Ottawa County.
"We applaud the property owners for taking the steps necessary to preserve this important piece of land," McDowell said. "This is a private island under high residential development pressure. It has great historic value and also provides important wooded habitat for migratory birds."
The island was the only location to have a Union prison exclusively for southern officers. The prison housed as many as 3,200 prisoners at one time, with over 15,000 having been there over the course of the war.
After the war, the island contained two failed resort areas and was mainly used for farming and rock quarrying. The island, designated as a National Historic Landmark in 1990, now serves as a private and exclusive location for lakeside residential homes. It is also home to a historic Confederate cemetery, which is open to the public.