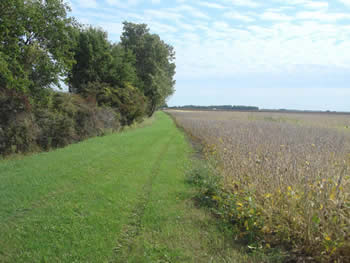 Fifth-generation farms preserved in Erie County
March 9, 2012
Nearly 600 acres of Erie County farmland have been permanently preserved by conservation easements granted by the Wallrabenstein family to the Land Conservancy.The easements permanently restrict development of the land.
John and Shirley Wallrabenstein preserved their 415-acre farm in Oxford Township, while John's mother, Marge, preserved her 150-acre farm in Milan Township.  The ffifth-generation farms have been in the family since the 1880s and are some of the most productive in the region, according to Andy McDowell, the Land Conservancy's western field director.
The farms, which are south of Sandusky in the flat farmland region easily visible from the Ohio Turnpike, are grain operations that include popcorn.  Both contain very fertile soil with nearly all soil types classified as prime agricultural soils.  Both have small woodlots.
"These are both among the best maintained and managed grain farms I have had the privilege to walk.  I commend the Wallrabenstein family for their commitment to land management, conservation and leadership in preserving this rich farmland," McDowell said.
John Wallrabenstein has held a number of officer-level positions with the Erie County Farm Bureau.