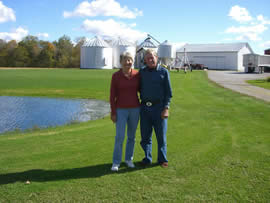 Family preserves nearly 700 acres in Huron Co.
December 3, 2010
A Huron County family has permanently protected 686 acres—some of which it has owned since the 1830s – in cooperation with the Land Conservancy.
Howard and Sharon Smith of Sherman Township have placed conservation easements on three properties in Sherman and Peru townships in west central Huron County, southwest of Norwalk and north of Willard.  The non-contiguous parcels contain farmland and natural areas.
A conservation easement permanently protects the land while allowing the property to remain in private ownership.  Howard Smith has a grain-farming operation on the preserved properties, which contain prime agricultural soils and are farmed with a high regard for conservation.
"Howard and Sharon own some of the most beautiful farmland and natural areas in western Huron County that I have seen," said Andy McDowell, the Land Conservancy's western field director.  "Working with the Smith family was truly a pleasure and a great example of how the Land Conservancy can work to ensure preservation goals are met while still retaining the flexibility needed for future farm operations by future generations."
The largest of the three properties is a 462-acre tract along the West Branch Huron River in Peru Township, along Snyder, Fern and Hettle roads.  A 1.5-mile stretch of the river flows through the property, which includes farmland as well as floodplains and wooded uplands.
Another property, a 131-acre parcel in Peru Township, has been in Howard Smith's family since the 1830s and has been designated a Century Farm by the Ohio Department of Agriculture.  The farm operations are centered on a third parcel, a 93-acre tract on Dogtown Road in Sherman Township that contains a portion of Slate Run, a tributary to the Huron River.
Western Reserve Land Conservancy seeks to preserve the scenic beauty, rural character and natural resources of northern Ohio.  The Land Conservancy, which was formed in 2006 by the merger of eight local land trusts, has preserved more than 350 properties and more than 22,000 acres in northern Ohio.
The Land Conservancy's 14-county service area extends from Huron and Erie counties east to the Pennsylvania border.  The organization is headquartered in Chesterland and has five field offices, including one in Oberlin.