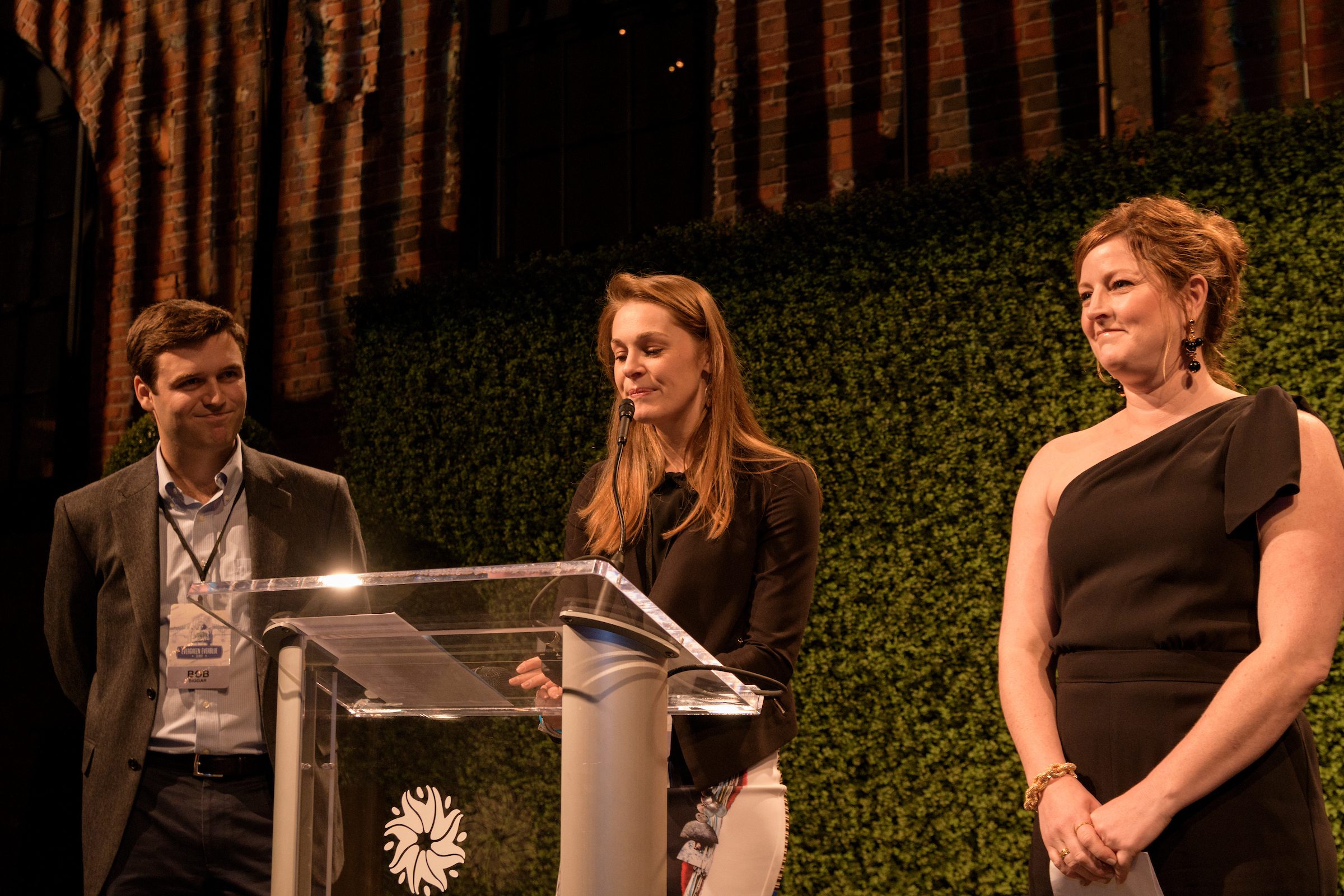 EverGreen EverBlue Success
November 21, 2017
On Saturday, November 18, Western Reserve Land Conservancy hosted nearly 400 donors at EverGreen EverBlue. The event took place at TENK West Bank in Cleveland, reactivating a former foundry built in the early 1880s.
Guests enjoyed artisanal cocktails and savory appetizers, as well as farm-to-table dinner and delectable desserts. At the late-night EverAfter party, guests took advantage of the photobooth as well as an Arborwear Pop-Up Shop featuring Land Conservancy gear. They danced the night away to Wesley Bright and the Honeytones' spectacular performance.
Thanks to the generosity of our sponsors and donors, the event raised nearly $300,000 to advance critical land conservation and restoration work. We appreciate everyone standing up to support Western Reserve Land Conservancy.
(Click here to see photos from the event.)
SPECIAL THANKS
EVENT CHAIRS
We thank event chairs Margaux Schmitz Murphy, Kate Shaughnessy, and Bob Biggar for their tremendous efforts in organizing the event.
EVENT SPONSORS
Revitalization Sponsors: Dealer Tire and Julie & Dominic Visconsi
Stewardship Sponsors: Fairmount Santrol, Great Lakes Growers, Sally & Dick Hollington, Sarah & Dick Hollington, KeyBank, Julie & Josh Nathanson, Ohio Real [gloassary_exclude]Title[/gloassary_exclude], The CJR Group
Community Sponsors: Connor Family Foundation, Douglass and Associates Co LPA, Heidelberg Distributing Company, Impullitti Landscaping, Inc., Marigold Catering, ParkOhio, Anne-Marie & Sam Petros, RPM International, Sherwin-Williams, Taft/, The Angeletti Group, LLC, Susan & John Turben Foundation
EverAfter Sponsor: Kyla & Mitchell Schneider
Friends of Conservation: AAble Rents, Arborwear, Buckeye Fresh, Cumberland Development, Dominion Energy, Episcopal Diocese of Ohio's Bellwether Farm, Mary & Lyle Ganske, Hartland, Incentra, OE Strategies, North Water Partners, Third Federal Foundation, and Zion, Synek & Associates
EVENT HOST COMMITTEE
Camille Ames, Kim Barratt, Tom Barratt, Max Fisher, Jen Goldberg, Kathy Goss, Margot Hoeflinger, Patrick Hoeflinger, Richard Hollington, Jr., Sally Hollington, Chuck Kampinski, Wendy Adelman Kampinski, Michael Murphy, Laura Pinnick, Ted Pinnick, Colleen Reali, Kevin Ruddock, Marian Ruddock, Eileen Sammon, Marian Shaughnessy, Michael Shaughnessy, Heather Thomas, Jack Turben, Susan Turben, and Julie Visconsi
GIFT CARD DONORS
Andrews Colour Atelier Salon, Arborwear, Bakersfield, Ballentine in Willoughby, Banyan Tree, Barre CLE, Barrio, Beet Jar juicebar + takeaway, Bob Biggar, Block Brothers, Browns Football, Campbell's Sweets Factory, Cedar Creek Grille, Chili's, CLE Juice Box, Cleveland Indians, Cleveland Yoga, Coastal Taco, Crowne Plaza Cleveland at Playhouse Square, Cru Uncorked, Dante, Etna, Fleming's Prime Steakhouse and Wine Bar, Flour, Geiger's, Glass Bubble Project, Great Lakes Brewing Co., Harness Cycle, Hyde Park Grille, John Roberts, Kingfish Seafood, Knuth's, Lake County Captains, Lake Erie Monsters, Lakeview Cemetery, Luna Bakery, Middy N' Me, Mitchell's Ice Cream, Moxie's, Mulholland & Saks, Pat's Wellness, Playhouse Square, Prive, Red the Steakhouse Beachwood, Saucy Brew Works, Jean Anne Sexton, SinkIt, Slices, Southside, Starbucks, Stone Mad Pub, Sweet Melissa's, Tree House, Willoughby Brewing Co.
For more information and sponsorship opportunities for 2018, contact Megan Quinn.
Call: 440-528-4166
Email: mquinn@wrlandconservancy.org