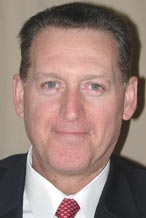 Dan Miltner – a passion for conservation
March 1, 2010
Dan Miltner's passion for land conservation is not something he developed overnight. Miltner, an active member of the Land Conservancy's Medina Summit Chapter, remembers standing on the banks of the Rocky River as a boy, wondering why adults don't take care of the land.
"Now I'm the adult, and it is my job to do something about it," Miltner says.
He is. Miltner, senior vice president and investment solutions specialist with Key Private Bank, has walked the walk of a true conservationist, devoting much of his spare time to the missions of such organizations as the Land Conservancy and the Rocky River Watershed Council.
"I like to volunteer in areas where I have a passion. For me, land conservation is one of those areas," he says.
Miltner's home in Medina Township is a testament to his love of the land. When he and his wife, Regina, moved there 10 years ago, they did so knowing that the house on the property was modest and needed repairs. It was the land – part of a natural corridor along the West Branch of the Rocky River that includes property owned by the Medina County Park District, the Cleveland Museum of Natural History and Bunker Hill Golf Course – they wanted.
Today, the Miltners grow vegetables and keep two sturdy Haflinger horses on their approximately 10-acre property. The land has hiking trails, two ponds and a great view of a riverside heron rookery.
Dan Miltner is a Kent State University graduate who worked for the U.S. Department of the Treasury, National City Bank, and FirstMerit Bank before joining Key Private Bank five years ago. Miltner, who has four grown daughters, Katie, Jessie, Jenny, and Jackie, works in Westlake.
Miltner says he believes conservation groups are most effective when they develop synergy through cooperation. He also thinks the Land Conservancy's chapter members can make a difference.
"I think it is important to have a grassroots presence," he says. "You have to have people in the community."