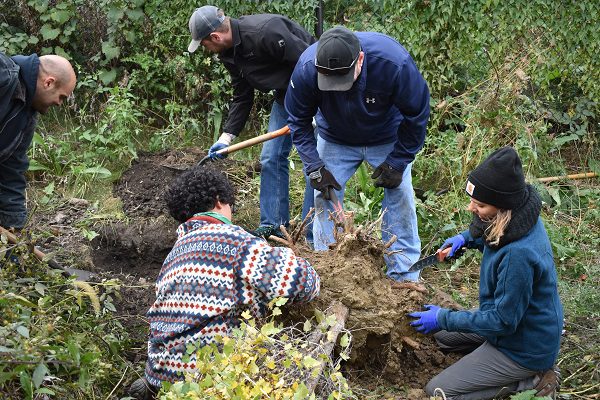 Cargill helps to reforest the "Forest City"
October 24, 2018
More than 30 trees were recently planted in Cleveland with the support of Cargill, Cleveland Metroparks, and Western Reserve Land Conservancy.
On Friday, October 19, Cargill Road Safety volunteers planted 34 trees along the new Cleveland Foundation Centennial Lake Link trail in the Ohio City neighborhood. In determining types of trees to plant, the Land Conservancy assessed the site and consulted the Cleveland Tree Plan, ensuring that the trees were native, hardy, and climate resilient as well as being great compliments to the trail. Four different types of trees were chosen to plant in this area based off of those factors: Washington Hawthorn, American Plum, Staghorn Sumac, and Red Oaks.
"It was a wonderful learning experience as well as enriching to physically partake in something that will better the environment for years to come," said Jean Davis, customer solutions specialist for Cargill.

The planting was funded through the Cargill Cares Council. Cargill employees around the world contribute millions of dollars and lend more than 100,000 hours of their time and talent to volunteer at activities that have a local impact. Cargill believes trees have a significant local impact when it comes to sustainability and the environment, so this partnership was an exciting opportunity. These types of local initiatives also give their employees the opportunity to lend a hand and help make their community a cleaner, greener place to live and work.  Jean also noted that, "Doing this event aligns with Cargill's Commitment to serve value, doing what is best for our customers, each other and our communities. Events like this allow us to give back to our communities, and provide a safe environment for the future generations to come."
Across the region, trees are a critical piece of our community infrastructure. But in too many places, tree canopies are dwindling and communities are losing out on these critical benefits. This is especially true in urban areas like the City of Cleveland. With a canopy of just 19 percent, Cleveland continues to lose approximately 100 acres of its small tree canopy every year.
In 2014, Western Reserve Land Conservancy launched Reforest Our City to reverse this trend. With the help of hundreds of volunteers, we have planted thousands of robust trees in neighborhoods and distributed thousands of tree saplings over the past three years. We continue to work with our partners, like Cleveland Metroparks, to maintain existing trees, plant new trees, and engage the community in this important work.
The Land Conservancy is a proud member of the Cleveland Tree Coalition, a collaborative group of public, private and community stakeholders that have partnered with the City of Cleveland to rebuild our urban forest. The coalition is striving to create a healthy, vibrant, sustainable, and equitable urban forest by working collaboratively to implement the Cleveland Tree Plan.
In 2017, the Cleveland Tree Coalition announced its commitment to grow Cleveland's tree canopy from 19 percent to 30 percent by 2040. We can and should aspire to create an even healthier and greener future for our city and its residents, which is why the Land Conservancy pledges to ultimately grow Cleveland's tree canopy to 40 percent.
Together, we're making Cleveland the Forest City once again. Thank you, Cargill!