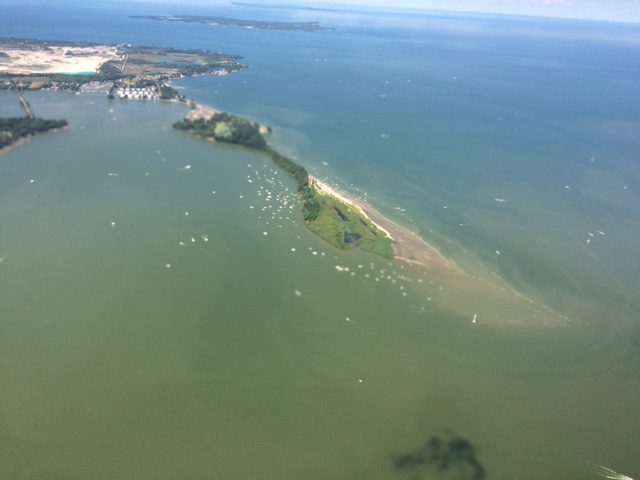 Bay Point Sandbar property acquired, set to be permanently conserved
January 16, 2018
An iconic reminder of the Great Lakes' rich natural heritage, the 68-acre Bay Point property along the Lake Erie shore has been acquired by Western Reserve Land Conservancy.
Known locally as the "Sandbar," the Ottawa County property consists of a narrow peninsula that extends south from the Marblehead Peninsula into Sandusky Bay. The northern portion of the property is more stable and contains mature trees along with extensive forested wetlands. The southern portion of the property is seemingly under constant change by shifting sands and wave activity. It comprises beaches, sandbars, small sand dunes, as well as coastal wetlands.
On December 28, 2017, Western Reserve Land Conservancy reached its first major milestone by acquiring the property.
"We're extremely grateful to the previous owner of the property, Bay Point Acquisition, LLC, for providing in excess of $1 million of charitable value to help make this one-of-a kind project possible," explained Rich Cochran, president and CEO of the Land Conservancy. "We are now working with our public funding partners to finalize grant administration and funding in order to permanently conserve this iconic property with conservation restrictions."
Charles Papy, managing member of Bay Point Acquisition added, "On behalf of our long term members and residents, we are pleased to make this gift. We are proud to partner with the Land Conservancy to preserve this unique, natural gem along the beautiful shores of Lake Erie. Because of their expertise and hard work over many years, this amazing place will remain pristine forever."  Established in 1941, Bay Point has evolved to a full-service resort offering visitors seasonal family living and recreation opportunities. The resort is located to the north of the 68-acre conservation property.
The Land Conservancy has secured public funding for the project through the Ohio Public Works Commission Clean Ohio Green Space Conservation Fund and the Ohio EPA Water Resource Restoration Sponsorship Program (WRRSP). This specific WRRSP project is being sponsored by the Northeast Ohio Regional Sewer District (NEORSD). In addition, the organization is awaiting a decision on a pending National Coastal Wetlands Conservation Grant submitted to the U.S. Fish and Wildlife Service in partnership with the Ohio Department of Natural Resources (ODNR) Office of Coastal Management.
"The rarity and quality of Bay Point's 34-acre freshwater coastal wetland habitat and nearly 2.5 miles of undisturbed Lake Erie shoreline make this coastal ecosystem a nationally significant conservation priority," noted Cochran. "We are extremely proud to preserve such an extraordinary landscape."
Coastal development has transformed nearly 80 percent of Ohio's coastline from its initial state. Nearly all of the remaining wetlands along Lake Erie's shoreline have been extensively modified through the addition of dikes and other erosion control measures; however, the Bay Point property is unique and remains unaltered. It contains some of the last remaining, undisturbed coastal wetlands of the historic Great Black Swamp.
Coastal wetlands and lakeshore dunes are regionally significant for Ohio's Lake Erie shoreline area, as well as along the shoreline of the Marblehead Peninsula, on which the property is located. Freshwater peninsular sand and dune complexes are considered to have international significance, in part due to their role in supporting unique plant communities and migrating birds.
With pristine habitat, the property hosts many rare plants and animals. During site visits conducted by staff experts from the Cleveland Museum of Natural History's Natural Areas Program, Ohio Department of Natural Resources, Audubon Society, Davey Resource Group, and the Land Conservancy, more than 80 different bird species were identified on the property. Seven of these species are classified by the State as "Species of Concern" or "Special Interest."  These include: the common tern, great egret, magnolia warbler, blackburnian warbler, brown creeper, dark-eyed junco, and green-winged teal. In addition, a snowy plover was observed in September 2010, which is notable as snowy plovers have been non-breeding in Ohio since 1955.
"The Bay Point Sandbar property is a coastal treasure that is unspoiled, unique and worthy of our protection," said Congresswoman Marcy Kaptur (OH-09).  "I congratulate Western Reserve Land Conservancy's leadership and their tireless efforts to conserve our lands. We must continue to work together to protect Ohio's critical natural habitats and improve Lake Erie's water quality."
Development causes sediments and nutrients to runoff into the water. With long-term conservation, not only is the threat of future development eliminated, but the wetlands and forests on the property will continue to absorb and slow the movement of this pollution into Lake Erie.
Cochran noted that this also has a positive economic impact. Visitors to Ohio's Lake Erie region spend more than $10.7 billion annually, nearly 30 percent of Ohio's total tourism dollars. Regional tourism supports more than 100,000 northern Ohio jobs and generates $750 million in state and local taxes. Along with recreational fishing, Lake Erie also supports a fishing industry that generates $1 billion annually for Ohio's economy, making viable fisheries essential to Ohio's economy.
Congressman Dave Joyce (OH -14) noted, "By preserving the Bay Point wetlands, we are doing more than protecting natural environments but are continuing to protect our Great Lakes. The Bay Point conservation project ensures the safety and best quality of Lake Erie, which serves as one of our main water sources for Northeast Ohio and its surrounding areas. I am thankful to Western Reserve Land Conservancy for working to protect these lands and am proud to continue supporting the Bay Point efforts."
In addition to the support from Congresswoman Kaptur and Congressman Joyce, the project received resolutions and letters of support from the Ottawa County Board of Commissioners and the Village of Marblehead, as well as Black River Audubon, ODNR Office of Coastal Management, ODNR Division of Natural Areas and Preserves, and the Marblehead Merchants Group.
Western Reserve Land Conservancy will continue to finalize grant agreements and conservation restrictions over the next few months, including access and management plans. At this time, the Land Conservancy does not intend to prevent anyone from anchoring off the Sandbar property, where individuals can continue to appreciate the scenic asset.
For questions about the project, please contact the Land Conservancy at 440-528-4150.