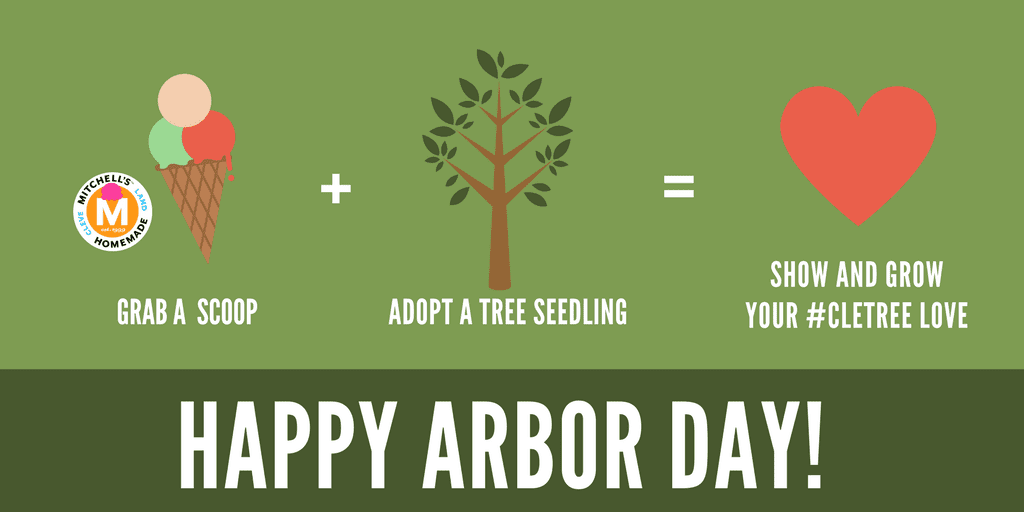 Adopt a tree seedling this Arbor Day!
April 26, 2018
Join us at Mitchell's Ice Cream in Cleveland on Arbor Day – Friday, April 27 – to adopt your very own tree seedling!
Western Reserve Land Conservancy staff will be at Mitchell's Ohio City shop slinging scoops, talking trees, and celebrating Arbor Day through the day. (You can also pick up tree seedling at the Mitchell's Uptown location.)
Check out this video on how to plant your tree seedling:
We are grateful for our sponsor of this event for the third year: Mitchell's Homemade Ice Cream! We also appreciate support from our trusty tree provider, Bartlett Tree Experts – Cleveland.
Why trees?
Trees save energy, reduce stormwater runoff, enhance property values, improve water quality and make our neighborhoods more attractive.
But in many urban and suburban communities, tree canopies are dwindling. Some trees are lost to development. Others are never planted or replaced due to municipal budget constraints.
Western Reserve Land Conservancy launched Reforest Our City to reverse the trend. Starting in the city of Cleveland, we are working with our partners — including residents — to plant and maintain thousands of trees along streets, in parks and in other public spaces.
The time to reforest our cities is now. The need has never been greater.
Learn more about the Reforest Our City program here: https://www.wrlandconservancy.org/whatwedo/reforest-our-city/.