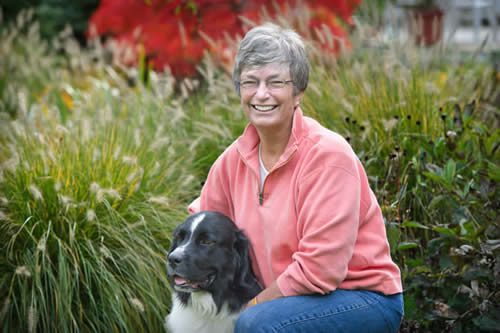 A force for conservation
December 2, 2011
As a child, no one had to prod Kathy Leavenworth to go outside and play.
She and her friends spent their non-school hours exploring the natural wonders of their hometown of Highland Park, Ill., outside of Chicago. In winter, there were snowball fights and ice skating. Summers were spent camping, hiking, horseback riding and taking week-long pack trips while at a camp in Jackson Hole, Wyoming.
"We were outside all the time," Leavenworth says.  "It was what we did."
So it is probably not surprising that Leavenworth, a self-employed training consultant whose extensive career in public and community service has included more than 30 years on the State and West Geauga boards of education, embraces the idea of preserving land in northern Ohio. Leavenworth, who was president of the Chagrin River Land Conservancy when it became part of Western Reserve Land Conservancy in 2006 and has continued to serve on the Land Conservancy board, now focuses her volunteer efforts on the environment and education.
In 2009, Leavenworth, who is known for her ability to build teams and bring people together, was named to the prestigious National Council of the Land Trust Alliance, an organization that includes the Land Conservancy. The group, which also includes local conservation leader Thomas Quintrell, has been assisting LTA's leadership for the past four years, serving as a think-tank for the LTA board on such issues as litigation defense insurance, policy priorities such as tax incentives, legislative involvement, communications and diversity.
"(The leaders) come to us and say, 'Here's what is happening in LTA.  We'd like your input.'  We do a lot of brainstorming, and I get to know the leadership," says Leavenworth, who lives in Russell Township.
Leavenworth says her mother, Miriam Keare, who had served on the foundation board for the Sierra Club, "introduced me to the outdoors" and was a role model for community activism.  In northern Ohio, she became immersed in conservation after a late 1990s lunch with the Chagrin River Land Conservancy's Mary Weber and Rich Cochran, now president and CEO of Western Reserve Land Conservancy.  She has been a conservation leader ever since.
The 2006 merger of eight local land trusts – the largest one of its type in U.S. history – was quite a feat, she says.  "We serve as a model to the rest of the nation and at state and national gatherings we are constantly asked, 'How did you manage to accomplish that?'"
Leavenworth adds, "I don't think any of us could have predicted that we would have such success so quickly. I can't give enough praise to Rich (Cochran).  He has such vision."
Leavenworth says she is excited about the Land Conservancy's new urban initiative, Thriving Communities Institute.  She says Thriving Communities, with its emphasis on creating land banks to help urban areas, will allow the Land Conservancy to lend its expertise to cities.
"We need to be protecting land in people's back yards," she says.  "Yes, we want to be able to protect land in the inner city, but a one-sixteenth of an acre lot didn't make sense for us. Now we have a tool to tackle this problem."