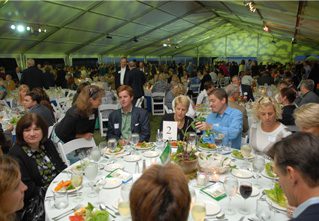 2009 EverGreen EverBlue at White North Stables
August 18, 2009
Western Reserve Land Conservancy is pleased to hold our 6th Annual 'EverGreen, EverBlue,' benefit at White North Stables, 3160 Chagrin River Road, Hunting Valley.
Guests will celebrate the work of Western Reserve Land Conservancy while enjoying the spectacular scenery at White North Stables.
In the halcyon days of the Chagrin Valley equestrian community, as many as 8,000 people attended pre-World War 1 polo matches at the historic stables. Several prominent Cleveland families – the Merritts, Herricks, Mathers and Wades – owned property at the picturesque corner of Chagrin River Road and Shaker Boulevard. Today, White North Stables are currently being restored and the 76-acre property is permanently protected through conservation easements held by the Land Conservancy. The final easement, which was secured in 2008, completed a 7.6-mile corridor of permanently preserved land along the main stem of the Chagrin River.